---
Warning: After you wear your strapless bra once, you'll never be able to go without it!
Why Strapless Bra?
✔️ Squeezes your girls together and stays in place with ZERO malfunctions
✔️ Helps you show off that beautiful chest curve, lets you become the focus of everyone
✔️ Super comfortable to wear
✔️ Stays in place ALL DAY when you go to events
✔️ Lifts your girlies while giving them that perfect shape
✔️ Looks And Feels Amazing
✔️ Comes with a 1 Year Warranty
Be The Focus of Everyone  
 An easy to use strap bra that perfectly adapts to your curves! Just imagine how you would look after getting the Strapless Bra that gives you a complete and sexy cleavage making you look gorgeous!
There is so much body negativity in the media so we designed this to empower women and have women be confident wherever they go!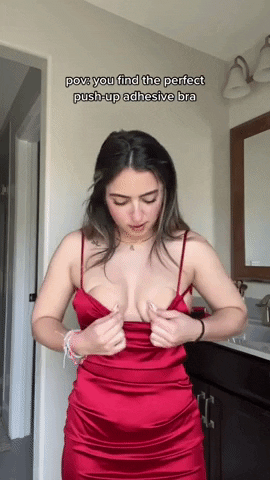 Yes we went pretty viral...
Have Your Girlies Sit Perfectly
Our strapless bra is suitable for all types of chest sizes and it is easy to clean and reusable unlike other brands. With good maintenance you can reuse your bra and wear it as many times as you want, and you only need to simply wet the adhesive surface with warm water and mild detergent and then air to dry it. It will still keep the adhesive gels for your next time using.
OUR GUARANTEE
If you aren't completely satisfied within 30 days let us know for a stress free refund! Contact us at hi@canvasyhome.com and we'll get back to you as soon as possible.